Description
Bounce Booster – Review
Get more Sales with it


Are you wondering what Bounce Booster can do? If yes, then you are not alone, as many people want to know more about bounce booster for WordPress. Here, in this article, we will tell you everything about bounce boosters.
Are various users bouncing from your website without adequate interaction? Those people are lost forever, and you are losing money! The Plugin manages that once and for all! With Bounce Booster, you are capable of redirecting bouncing visitors where you like to.
How does the Plugin work?
It checks the Browser-History and recognizes if a user utilizes the Back-Button to leave your page. Now the Plugin controls and redirects the applicant to the landing page you selected.
What can Bounce Booster do?
It redirects users to various URLs relying on the source they came from. You can figure out URLs for the following traffic sources:
Search engines like Yahoo, Google, and Bing
Social Networks like Facebook, Twitter, YouTube, and Instagram
Post-, Page- & Custom-Post-Type settings- All global settings are overwritten on a Post-, Page- & Custom-Post-Type level.
Bounce Booster helps in URL-Shuffling. If you offer more than one URL per traffic source, Bounce Booster Selects a random one if you like the share bouncing traffic to various target URLs.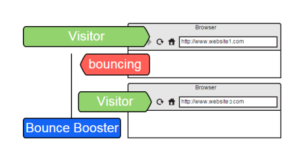 What can you do with the Plugin?
You can redirect the bouncing users to another page of your network or through an affiliate link to a shop of a similar topic.
Redirecting the bouncing user to a search page and asks them to refine their request.
As a shop owner, you can redirect the bouncing uses to a "one-time offer" page and provide them a 10 % discount if they purchase now.
Redirecting the bouncing user to a question form and asks what you can do for them.
Maximize your Facebook Page by redirecting the users to one of those URLs. With segmentation, you can refine that and turn only users from Twitter to get an effective conversion.
Redirecting the users to a Google-Custom-Search and allow them to search your network. You can even make money by relating the GSC with your AdSense-Account.
Google Chrome v75 and later
Chrome v75 Google Chrome or Chrome-based browsers need a trusted user event to permit access to the browser history. To reflect this, Bounce Booster now watches for those events and hooks in. It occurred to popups like five years ago. This remarkable change, as Bounce Booster can no longer work as smoothly as before and requires user interaction. We see this behavior come to all main browsers.
Which WordPress-Version is supported or helped by this plugin?
Officially only the last two versions of WordPress are supported by bounce booster, but we ensure to apply technics that compatible with older versions too.