Description
Zapable – Review
Zapable is one of the most trending software that permits you to build mobile iOS and Android apps for your business within no time. Moreover, you may make it as you want.  For creating a mobile app with Zapable, you don't need any skill or technical experience. The fact is it is simple to design with its drag or drop builder.
It provides advanced features and has a simple user interface. Thus, you can receive a customized style for the mobile app. The perfect thing about Zapable is it integrates with social media networks, and it also permits you to make coupon codes and many more. Moreover, you may publish your mobile app for your company within the software; besides, it enables you to integrate push notifications.
Zapable is the special software that can produce an app as you want to increase your target audience. If you need to establish an app with Zapable, go with the Zapable features and get information about its pricing and many more.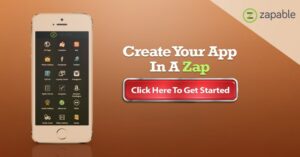 Features Review of Zapable
This outstanding software is loaded with various exciting features helping the users to produce the mobile apps they want. Irrespective of your business niche is, Zapable has trending features that can amazingly establish a mobile app for you with so much simplicity.
Rich Drag and Drop Builder
With a simple widget system, manage the app's layout, and in this, you may select various things like elements, icons, images, and many more to appear in the app. You have to simply drag or drop the aspect you want to put, like an icon or something.
Various E-commerce Features Can Integrate into Your Mobile App
If you want your products or services to sell or are an affiliate seller, sell them by making a mobile app. You may sell your products or services on the Shopify store by giving your store URL into this to import the data. It is simple to establish and own an Amazon store on any topic; if you purchase the product, you can get an affiliate commission.
Maximize Engagement with Digital Loyalty Cards and Coupon Codes
This software feature is perfect for cafes, coffee shops, hotels, physical shops, restaurants, theatres, etc. Furthermore, you can form customizable coupon codes or digital loyalty cards with this software.
It does not matter your business; this software is ideal and suitable for any business-like physical shops, cafes, and many more.
Full Social Media Integration
If you are going to start your business and target more people, social media is the right platform to advertise your business products, expertise, and services. And with this particular software, social media integration is simple, and you will easily visit social media pages.