Description
MailerKit by Tom Yevsikov & Firas Alameh – Reviews
Send Unlimited Leads, Collect Unlimited Emails, 1 Click Import,
No Double Optin, Highest Delivery..And That's Just The Start..


Email marketing still is – and will continue to be – the holy grail of any online business, and MailerKit empowers you with powerful technology to grow your business using the power of email.
And if you have been demoralized with your previous email marketing efforts – then don't worry because MailerKit will level up your email marketing, optimize your conversions and 50X your results!
What´s the advantages from MailerKit by Tom Yevsikov & Firas Alameh? ✅
Best Primary Inbox Delivery in The Industry
Limited Time Offer (FREE SMTP – Unlimited email sending Credits
Collect Unlimited Leads & Send Unlimited Emails
You control your own reputation – Send emails from your own IP Address
No monthly fees, no restrictions of any kind
100% Cloud based

 with Zero restrictions
Unlimited emails, unlimited subscribers, unlimited lists
Spam Trap technology enhances inbox delivery
Drag and Drop automation
Built-in optin forms and pre-designed stunning email templates
Rapid import with no double opt-in or verification required
Powerful reports and analytical tools

 to boost your results
Why is MailerKit by Tom Yevsikov & Firas Alameh so amazing? 💪
✅ MailerKit is better for those who want no limits to their email automation capabilities! Yet for how easy it is to get started, MailerKit users wind up automating their email marketing in impactful ways.
✅ This platform has all the tools you need at your disposal.
✅ Plus – this is not an ordinary software that asks you to connect your own SMTP or pay for another service to send emails – it's a fully-fledged and integrated cloud platform that comes with its own included and preconfigured dedicated SMTP servers & dedicated IPs – we host & configure EVERYTHING for you so you can send unlimited emails through our rock-solid server infrastructure for free!
✅ So that all you must do is push send and have your emails delivered instantly to thousands of subscribers at literally ZERO cost to you!
So, with access to MailerKit you get ready to 🔽
➡ Skyrocket your email open rates and click rates – 50X and completely customize your email marketing automation
➡ Send unlimited email campaigns to unlimited subscribers without any monthly fee
➡ ALL your emails are delivered straight to your customer's inbox with in-built spam trap technology.
➡ Never again get blocked and reduce your spam scores.
➡ The free SMTP service will enable you to send unlimited emails and makes sure they're read.
➡ Run unlimited promotional campaigns – all automated in few steps.
➡ Design beautiful emails with in-built easy drag and drop editor and templates.
➡ No chance of IP address getting blacklisted because of sending bulk emails.


Why is E-Mail Marketing so important? 🤔
👉 In 2020, an average of 306.4 billion emails were sent and received per day.
👉 89% of marketers use email as the primary channel for generating leads.
👉 For ten years in a row, email generates the highest ROI for marketers.
👉 For every $1 spent, email marketing generates $42 in ROI and gives marketers the broadest reach of all the channels available to them.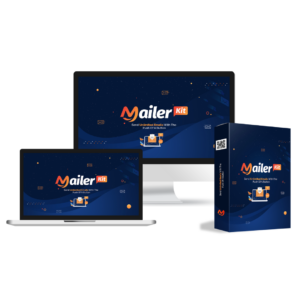 MailerKit have a 30 Day Money Back Guarantee 🥇
This Email marketing system is proven to work.
So, you'll get full 30 days to use MailerKit in your business with zero risk. Of course, our support team is always there to assist you in technical troubles to get you set up and running fast.
But in case you feel that it is not a fit for your business – which is an unlikely event we will issue a complete refund.